Enfanti Volume Shampoo provides moisturized volume for your color treated, limp, fine and thinning hair. Free from sulfate, paraben, DEA and alcohol, this lightweight cleanser is full of fortifying botanicals that add volume, body, lift and fullness to hair.
With a light fresh scent, Enfanti Shampoo contains green tea, nettle, chamomile and calendula extracts. Green tea, which is highly regarded for its potent antioxidants and anti-aging properties, is known to help stimulate hair growth. Nettle deep cleanses and provides a protective coating that strengthens the hair shaft. It also helps to repair chemically damaged hair and stimulates hair growth. Chamomile offers calming, cooling and soothing effects as well as anti-inflammatory benefits, while calendula increases hair shaft elasticity and flexibility to prevent breakage. It also penetrates the core of hair to restore keratin levels or fibrous structural proteins.
Hydrolyzed wheat proteins reinforce the hair shaft and replenish hair to its youthful form while bee propolis extract fortifies hair with vitamins, stimulates hair growth and reinforces hair's natural defenses to help cure and prevent split ends. Panthenol increases body, suppleness, and sheen and helps improve the texture of hair that has been physically or chemically damaged.
Designed to add volume and body to fine, limp or thinning hair, Enfanti Volume Shampoo is gentle on color and is safe to use daily.
Available in 8 oz, 16 oz, and 32 oz sizes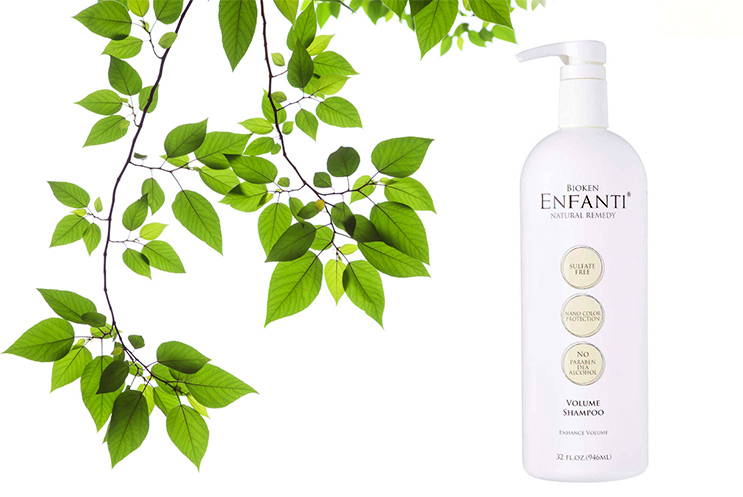 All Enfanti shampoos fall into the 4.5-5.5 pH level, which is the same as human hair. This ideal pH balance provides gentle cleansing and optimum color retention. The foam produces bubbles in various sizes. The microscopic sized bubbles cleanse inside and around the scalp pores, while the larger bubbles cleanse the oil and dirt from the outside hair surface. Each shampoo provides a special nano-color technology to protect hair color, and prevent fading of colored and natural hair color.
Natural Botanical Complex




Protects Hair Color




Promotes Healthy Hair Growth




UV Protection




Infused with Vitamins and Antioxidants




Hair Anti-Aging Properties




4.5 – 5.5 pH Level



All Enfanti shampoos are FREE from:
x Sulfate
x Paraben
x DEA
x Alcohol
x Sodium Chloride
Arnica Montana Extract - known to help prevent premature graying of the hair. Shields hair from UV damage.
Hydrolyzed wheat protein - work to reinforce the hair shaft and replenish hair to its youthful form. The low molecular weight allows it to penetrate the hair and strengthen its structure. Offers a combination of moisture-balancing and film-forming properties that work synergistically to give hair body control, and feel smoother and softer.
SHOP ENFANTI Volume SHAMPOO