RUAN was established in Maebashi, Japan in 1973. The company started selling wigs then. In September 1986, after a good deal of research and development on natural Rayon fibers, Super Million Hair was invented and hit the Japanese market. The office was opened in Yamato-cho, Tokyo. In next 4 years, the product gained high popularity and hence in 1990 nationwide sales network of Super Million Hair was established and that's when Ruan started to export Super Million Hair to USA, Taiwan, Korea and Europe. Also by 1996 the company started selling on the internet. More power added when Ruan got some importers from Hong Kong and Singapore. Due to immense popularity and keeping safety in mind, Ruan qualified for ISO 9001:2000 in year 2002. On Ruan's 20th Anniversary in 2006, RUAN and Gunma University started a joint research project. In coming years Ruan Company Ltd opened offices in Nagoya, Aichi, Ginza, Tokyo and Gunma Factory was opened. By this time Ruan was selling Super Million Hair in 70 countries and had already sold 12 million pieces and made around 200 worldwide distrubutors.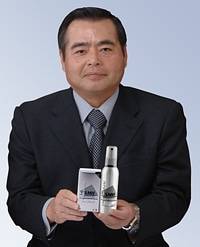 We have been studying hair, one of the most essential aspects of beauty, and delivering our products since the establishment of the company in 1973. Everybody wants to look younger and more beautiful. Your hairstyle can change your face, clothes, and mood. Your hairstyle can make you feel like a different person. But you have to keep in mind that hair becomes gray, thin, and even falls out depending on your age. RUAN has spent years researching this problem, and has succeeded in providing products that satisfy customers. We will continue our effort in helping people who have hair problems. And, I guarantee, we will serve you with the best products and services available on the market.
Yours truly,
Minoru Abe
President of RUAN Company Limited
100% Safe to Use
– No Side Effects
ㆍ CDSCO (Health Ministry of India) Approved
ㆍ ISO 9001 Recognition & Certification
ㆍ ISO22716 Standard Complaint
ㆍ Strict Manufacturing Regulations & On-going Research
ㆍ ICDRG (International Contact Dematitis Research Group) has proved SMH as a safe to scalp product.