Enfanti Hydrating Shampoo
Enfanti Hydrating Shampoo is a special blend of organic herbal and therapeutic botanicals. It hydrates, rejuvenates and moisturizes hair with excellent antioxidant and antibiotic properties. This sulfate, paraben, DEA, and alcohol free formula provides extra gentle cleansing with superior moisturizing and color retention using Bioken's exclusive Nano Color Care Technology.
Cocodimonium hydroxypropyl hydrolyzed hair keratin (hydrolyzed human hair keratin), which is an exact match for the natural protein of hair, works to strengthen and rebuild hair to its natural state. Safflower seed oil offers regenerating and nourishing benefits, which acts as a lubricant on the skin surface, leaving a soft and smooth appearance. Glycerin performs as a humectant and hair-conditioning agent while panthenol enhances the appearance and feel of hair, by increasing body, suppleness, and sheen. A natural hydrating form of pro-vitamin B. Panthenol softens and strengths hair by filling in cracks on the hair shaft, which in turn helps to add body and keeps split ends from forming.
Enfanti Hydrating Shampoo is safe to use daily and is suggested for those with dry, damaged hair.
Available in 8 oz, 16 oz, and 32 oz sizes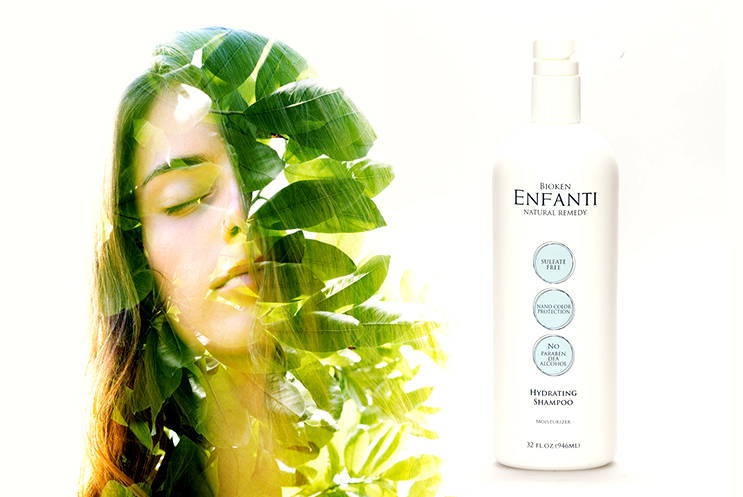 All Enfanti shampoos fall into the 4.5-5.5 pH level, which is the same as human hair. This ideal pH balance provides gentle cleansing and optimum color retention. The foam produces bubbles in various sizes. The microscopic sized bubbles cleanse inside and around the scalp pores, while the larger bubbles cleanse the oil and dirt from the outside hair surface. Each shampoo provides a special nano-color technology to protect hair color, and prevent fading of colored and natural hair color.
Natural Botanical Complex




Protects Hair Color




Promotes Healthy Hair Growth




UV Protection




Infused with Vitamins and Antioxidants




Hair Anti-Aging Properties




4.5 – 5.5 pH Level



All Enfanti shampoos are FREE from:
x Sulfate
x Paraben
x DEA
x Alcohol
x Sodium Chloride
Panthenol - a natural hydrating form of vitamin B which is a humectant (substance that helps hair attract and retain moisture). Adds strength and body to hair by filling in cracks on the hair shaft. Intensive hydration.
Safflower Oil - rich in essential fatty acids with a high level of vitamin E, which offer regenerating and nourishing benefits. Protects, nourishes, and hydrates the hair. Rich in polyunsaturated fatty acids, it is highly beneficial for dry, color treated, or permed hair.
SHOP ENFANTI HYDRATING SHAMPOO