Enfanti Curly Shampoo provides ultimate curl-enhancing properties to create body and bounce in your hair. Our unique blend is infused with Aloe Vera and Calendula to provide intense hydration that eliminates frizz and increase elasticity. Enfanti Curl Shampoo will leave your hair manageable and defined, with frizz free curls.
Calendula increases hair elasticity to enhance curls or waves




Shea Butter and Aloe Vera conditions and moisturizes hair for smoothness




Hydrolyzed Wheat Protein strengthens hair roots and adds lift




Humidity blocking




Balances moisture level in hair




Effective frizz control




Color Protecting



Enfanti Curly Shampoo is best for curly, wavy, or textured hair, and is safe to use daily.
Available in 8 oz and 32 oz sizes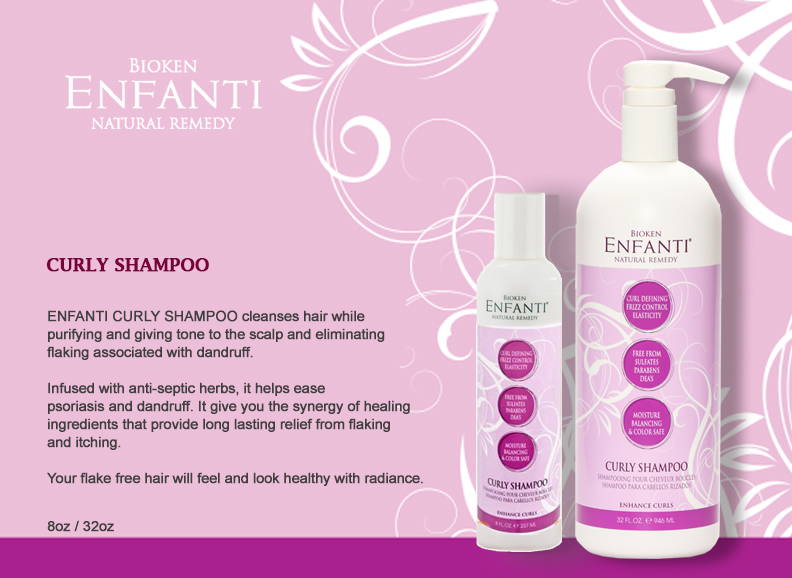 Simply apply Enfanti Shampoo to wet hair and work into a foamy lather. Leave on hair for 1-2 minutes and then rinse thoroughly following with appropriate Enfanti Conditioner or Enfanti Treatment.
All Enfanti shampoos fall into the 4.5-5.5 pH level, which is the same as human hair. This ideal pH balance provides gentle cleansing and optimum color retention. The foam produces bubbles in various sizes. The microscopic sized bubbles cleanse inside and around the scalp pores, while the larger bubbles cleanse the oil and dirt from the outside hair surface. Each shampoo provides a special nano-color technology to protect hair color, and prevent fading of colored and natural hair color.
Natural Botanical Complex




Protects Hair Color




Promotes Healthy Hair Growth




UV Protection




Infused with Vitamins and Antioxidants




Hair Anti-Aging Properties




4.5 – 5.5 pH Level



All Enfanti shampoos are FREE from:
x Sulfate
x Paraben
x DEA
x Alcohol
x Sodium Chloride
Aloe Vera - acts as a natural conditioning agent. Makes hair soft and adds strength. Naturally fights frizz, without adding greasy buildup. Anti-inflammatory and anti-bacterial properties.
Calendula – increases hair shaft elasticity and flexibility to prevent breakage, penetrates to the core of hair shaft to restore keratin levels (fibrous structural proteins), normalizes activity of Sebaceous glands (prevents oily hair), and has anti-bacterial and soothing properties.
Hydrolyzed wheat protein - work to reinforce the hair shaft and replenish hair to its youthful form. The low molecular weight allows it to penetrate the hair and strengthen its structure. Offers a combination of moisture-balancing and film-forming properties that work synergistically to give hair body control, and feel smoother and softer.