Enfanti Camu-Camu Oil Treatment
Enfanti Camu-Camu Oil Treatment revitalizes damaged hair, prevents split ends, and protects from thermal damage. The ultra-lightweight oil creates shine and long lasting leave-in conditioning without any product residue. Hair is left silky, smooth and noticeably softer.
Enfanti Camu-Camu Oil Treatment's main ingredient is camu-camu oil, which is a very unique extract from the camu-camu fruit found in the Amazon rain forest. This fruit contains 60% more vitamin C than an orange and is the highest botanical source of vitamin C on the planet. It's also rich in iron, niacin, riboflavin and bone strengthening phosphorus.
Enfanti Camu-Camu Oil Treatment also contains argan oil, cranberry seed oil and linseed oil. Argan oil improves skin's overall health and vitality. It's rich in naturally occurring antioxidants, essential fatty acids, carotenoids, and contains very high levels of vitamin E.
High in antioxidants including vitamin E, cranberry oil eliminates free radicals that cause oxidative stress and leads to premature aging. It is an excellent source of omega-3, omega-6 as well as omega-9 fatty acids, which moisturize and strengthen the skin as well as reduce inflammation.
Linseed oil strengthens skin and reduces redness. It is well absorbed and contains lignans and omega-3 fatty acids, which are known to reduce inflammation and have antioxidant properties.
Available in .034 oz, 1.7 oz and 4 oz sizes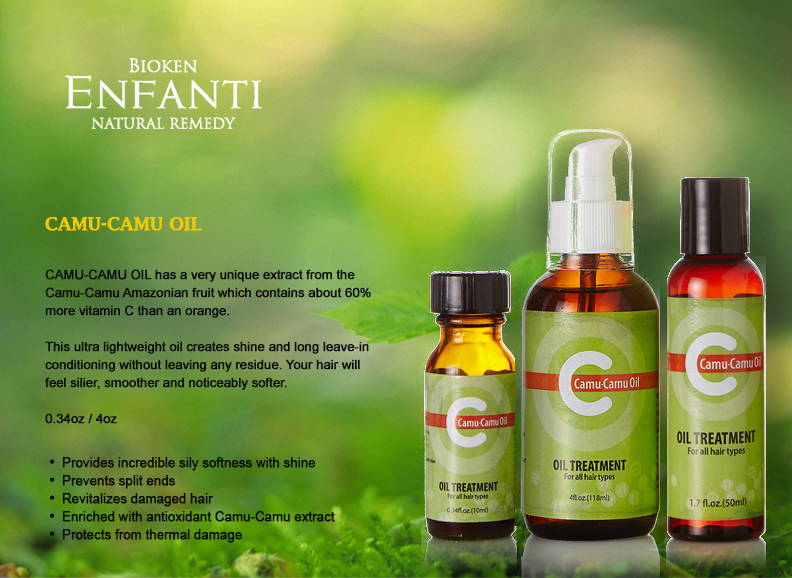 Enfanti Camu-Camu Oil Treatment has many uses. Using just a few drops, it can be added to hair color, bleach or perm solutions for improved shine and condition. A small amount can be worked into damp hair before styling to add shine, condition and tame frizz or after styling to help take down flyaways and or detail a hairstyle.
Camu-Camu - round red-purplish colored fruit that grows in the Amazonian rain forest. Up to 60% more vitamin c than an orange. Astringent, antioxidant, anti-inflammatory, and emollient. Protects, strengthens, and untangles hair. Adds incredible shine adding vitality to dull hair.
Argan Oil - oil produced from the kernels of the argan tree that grows in Morocco. It consists of a blend of fatty acids (80%) which is rich in vitamin E. It is easily absorbed in to the hair and gets rid of frizzy hair. Adds remarkable shine and benefits hair that has been damaged by heat.
Cranberry Seed Oil - abundant in vitamin E adds shine and strength. Contains natural rich antioxidants, and repairs cellular damage caused by pollutants. Adds natural color to Enfanti Camu-Camu Oil.
Linseed Oil - also known as flaxseed is abundant in omega-3 fatty acids which helps promote healthy hair growth. Nourishes dry and brittle ends while adding sheen and luster.
SHOP CAMU-CAMU OIL TREATMENT