BIOKEN Treatment is an ultra-lightweight re-constructor for your hair that restores, moisturizes and smoothes hair into a velvety phenomenon. It also provides all of the essential vitamins and proteins that hair needs to rejuvenate and maintain its flexibility. This lightweight formula moisturizes, strengthens and revives dull, lifeless hair while adding volume, body and shine. It helps protect against hair loss and provides thermal and UV protection.
Bioken Treatment contains green tea, nettle, chamomile and calendula extracts. Green tea, propolis extract which is highly regarded for its potent antioxidants and anti-aging properties, is known to help stimulate hair growth. Nettle deep cleanses and provides a protective coating that strengthens the hair shaft. It also helps to repair chemically damaged hair and stimulates hair growth. Chamomile offers moisturizing as well as calming, cooling and soothing effects as well as anti-inflammatory benefits, while calendula increases hair shaft elasticity and flexibility to prevent breakage.
Bioken Treatment's ingredients include cetyl alcohol, cyclopentasiloxane and hydrolized wheat protein and propolis is an anti-bacterial that also effects the stimulation of new tissue growth. Retinyl palmitate enhances the appearance and feel of hair by increasing body, suppleness, and sheen, improving the texture of hair that has been damaged physically or by chemical treatment.
Available in 8 oz and 32 oz sizes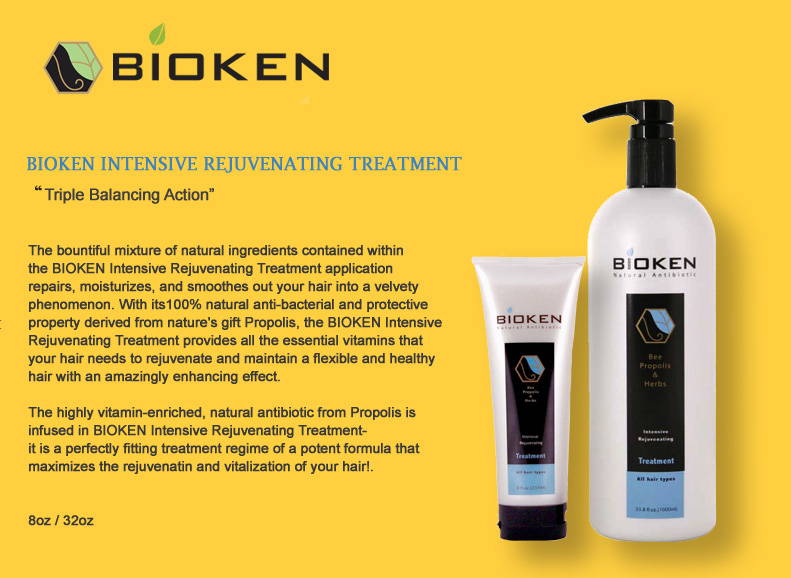 For soft, silky hair, apply Bioken Treatment onto clean wet hair concentrating on the ends. Massage gently for several minutes (the longer the better) and then rinse thoroughly.
Green Tea - highly regarded for its potent antioxidants and anti-aging properties, research shows that it is known to help stimulate hair growth, soothes scalp, and reduces inflammation. Additionally, green tea is a great source of Panthenol, which is a natural hydrating form of Pro-Vitamin B. Provides extreme conditioning and softens hair.
Chamomile - offers calming, cooling and soothing effects also anti-inflammatory benefits. Helps retract skin cells that have been inflamed from chemical procedures or sun damage. Beneficial to those with scaly, itchy, irritated scalps.
Bee Propolis - greek meaning is "defender of the city", it is a sticky substance secreted from bark and buds of trees. It protects the tree from environmental hazards such as mold, fungi, and bacteria. Bees protect their hives by collecting the tree propolis. This propolis that the bees collect has a high concentration in flavanoids providing to be a powerful antibiotic. Flavonoids are known to stimulate hair growth and also reinforce natural defenses of hair to prevent and cure split ends. High content of Vitamins B, E, C, H, P, Pro-Vitamin.
Calendula extracts is a natural extracted from marigold flowers (Calendula officinalis). It's often used as a complementary or alternative treatment. Calendula extracts has antifungal, anti-inflammatory, and antibacterial properties that might make it useful in healing wounds, soothing eczema, and relieving diaper rash.
Nettle leaf extract contains high amounts of anti-inflammatory and antioxidant properties that can help protect our scalp from damage and stimulate new hair growth. Nettle leaves are also rich in minerals like iron, magnesium, and zinc, which can all give our follicles a great boost. The full blend of natural and therapeutic ingredients converge together rapidly to rejuvenate and repair damaged hair.
Hydrolyzed Wheat Protein reduces hair's porosity and strengthens it from within, making your hair healthier, shinier, and easier to style. This protein increases your hair's ability to receive and retain moisture. It helps reduce breakage, eliminates frizz and tangles, and makes your hair appear fuller.
Tocopheryl acetate is Vitamin E may help support a healthy scalp and hair as it has natural antioxidant effects that could assist with maintaining hair growth. The vitamin's antioxidant properties could help reduce the amount of oxidative stress and free radicals that cause the hair follicle cells in a person's scalp to break down....
Retinyl palmitate can help strengthen the scalp by improving cell turnover and boosting collagen production to create the best conditions for the hair to grow," says Taylor. One thing that all experts can agree on is that retinol hair care will increase sun sensitivity just as it does on the complexion.
BIOKEN Intensive Rejuvenating Treatment
"Triple Balancing Action"
The bountiful mixture of natural ingredients contained within the BIOKEN Intensive Rejuvenating Treatment application repairs, moisturizes, and smoothes out your hair into a velvety phenomenon. With its 100% natural anti-bacterial and protective property derived from nature's gift—Propolis—the BIOKEN Intensive Rejuvenating Treatment provides all the essential vitamins that your hair needs to rejuvenate and maintain a flexible and healthy hair with an amazingly enhancing effect.
The highly vitamin-enriched, naturally antibiotic from Propolis, and absorptive BIOKEN Intensive Rejuvenating Treatment—it is a perfectly fitting treatment regime of a potent formula that maximizes the rejuvenation and vitalization of your hair!
Helps to prevent hair loss
Strengthens and rejuvenates dull, lifeless hair
Repairs damaged hair
Leaves hair robust, shiny and manageable
Provides UV and thermal styling protection
Adds volume, body and shine