BIOKEN INTENSIVE REVITALRIZING SHAMPOO
BIOKEN Intensive Revitalizing "Norma to Oily" Shampoo
"Triple Balancing Action" Formula
This BIOKEN Intensive Revitalizing Shampoo is a natural antibiotic product that prevents hair loss and regenerates damaged hair with purified Propolis extracts. Fortified with a full supplement of vitamins ( A, C, E, and B complex) and herbal extracts, along with its gentle balanced, and ideal therapeutic technology, the BIOKEN Intensive Revitalizing Shampoo soothes your damaged roots and scalp by rebuilding and encouraging healthy hair.
BIOKEN Intensive Revitalizing Shampoo combines all the essential and nourishing components for your hair.
BIOKEN Intensive Revitalizing Shampoo is special blend of organic herbs and therapeutic botanicals that revitalizes, rejuvenates and rapidly repairs all hair types and textures. Free from harmful sulfates, DEA and paraben, it detoxifies with natural active ingredients, protects hair color and shelters strands from UV rays using Bioken's Nano Color Care Technology. With a full supplement of vitamins(A,C,Eand B) along with its gentle, balanced and ideal healing technology, Bioken Shampoo soothes scalp and roots by rebuilding and encouraging healthy hair growth.
With a light, fresh scent, Bioken Shampoo contains green tea, nettle, chamomile and calendula extracts. Green tea, propolis extract which is highly regarded for its potent antioxidants and anti-aging properties, is known to help stimulate hair growth. Nettle deep cleanses and provides a protective coating that strengthens the hair shaft. It also helps to repair chemically damaged hair and stimulates hair growth. Chamomile offers moisturizing as well as calming, cooling and soothing effects as well as anti-inflammatory benefits, while calendula increases hair shaft elasticity and flexibility to prevent breakage. It penetrates the core of the hair shaft to restore keratin levels and normalizes activity of the sebaceous glands, preventing over production of natural oils.
Hydrolyzed wheat proteins strengthen the hair shaft and replenish hair to its youthful form while bee propolis extract fortifies with vitamins B, C, E, H, P, and pro-vitamins. It stimulates hair growth and reinforces hair's natural defenses to help cure and prevent split ends.
Bioken Intensive Revitalizing Shampoo is safe to use daily and is ideal for Normal to Oily hair types. It leaves hair silky, soft and full of luster and anti-itching.
Available in 8 oz, 16.9 oz and 33.8 oz sizes
Bioken Intensive Revitalizing Shampoos fall into the 4.5-5.5 pH level, which is the same as human hair. This ideal pH balance provides gentle cleansing and optimum color retention. The foam produces bubbles in various sizes. The microscopic sized bubbles cleanse inside and around the scalp pores, while the larger bubbles cleanse the oil and dirt from the outside hair surface. Each shampoo provides a special nano-color technology to protect hair color, and prevent fading of colored and natural hair color.
• Natural Botanical Complex
• Protects and strengthens hair & scalp
• Enhances energy and nutrient assimilation
• Add volume, body & shine
• Nano color care & UV protection
• Zero paraben, DEA, Alcohol
• Promotes Healthy Hair Growth
• UV Protection
• Infused with Vitamins and Antioxidants
• Hair Anti-Aging Properties
• 4.5 – 5.5 pH Level
BIOKEN Intensive Revitalizing "Norma to Oily" Shampoo
All Bioken shampoos are FREE from:
x Sulfate
x Paraben
x DEA
x Alcohol
x Sodium Chloride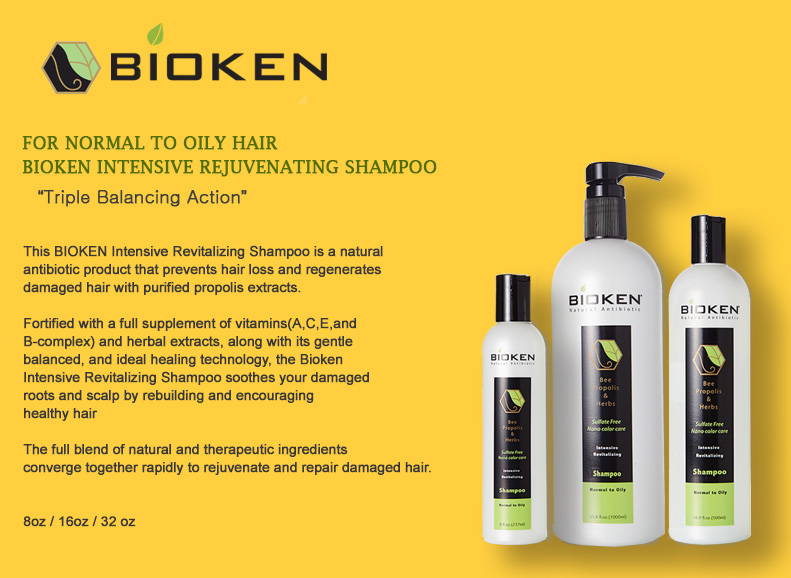 Green Tea - highly regarded for its potent antioxidants and anti-aging properties, research shows that it is known to help stimulate hair growth, soothes scalp, and reduces inflammation. Additionally, green tea is a great source of Panthenol, which is a natural hydrating form of Pro-Vitamin B. Provides extreme conditioning and softens hair.
Chamomile - offers calming, cooling and soothing effects also anti-inflammatory benefits. Helps retract skin cells that have been inflamed from chemical procedures or sun damage. Beneficial to those with scaly, itchy, irritated scalps.
Bee Propolis - greek meaning is "defender of the city", it is a sticky substance secreted from bark and buds of trees. It protects the tree from environmental hazards such as mold, fungi, and bacteria. Bees protect their hives by collecting the tree propolis. This propolis that the bees collect has a high concentration in flavanoids providing to be a powerful antibiotic. Flavonoids are known to stimulate hair growth and also reinforce natural defenses of hair to prevent and cure split ends. High content of Vitamins B, E, C, H, P, Pro-Vitamin.
Calendula extracts is a natural extracted from marigold flowers (Calendula officinalis). It's often used as a complementary or alternative treatment. Calendula extracts has antifungal, anti-inflammatory, and antibacterial properties that might make it useful in healing wounds, soothing eczema, and relieving diaper rash.
Nettle leaf extract contains high amounts of anti-inflammatory and antioxidant properties that can help protect our scalp from damage and stimulate new hair growth. Nettle leaves are also rich in minerals like iron, magnesium, and zinc, which can all give our follicles a great boost. The full blend of natural and therapeutic ingredients converge together rapidly to rejuvenate and repair damaged hair.
Hydrolyzed Wheat Protein reduces hair's porosity and strengthens it from within, making your hair healthier, shinier, and easier to style. This protein increases your hair's ability to receive and retain moisture. It helps reduce breakage, eliminates frizz and tangles, and makes your hair appear fuller.
Tocopheryl acetate is Vitamin E may help support a healthy scalp and hair as it has natural antioxidant effects that could assist with maintaining hair growth. The vitamin's antioxidant properties could help reduce the amount of oxidative stress and free radicals that cause the hair follicle cells in a person's scalp to break down....
Retinyl palmitate can help strengthen the scalp by improving cell turnover and boosting collagen production to create the best conditions for the hair to grow," says Taylor. One thing that all experts can agree on is that retinol hair care will increase sun sensitivity just as it does on the complexion.
Helps to prevent hair loss
Protects and strengthens hair & scalp
Enhances energy and nutrient assimilation
Adds volume, body and shine
Provides UV protection and color care
Promotes vitality and bounce
SHOP BIOKEN INTENSIVE REVITALRIZING SHAMPOO