ENFANFI ANTIDANDRUFF SHAMPOO cleans hair while purifying and giving tone to the scalp and eliminating flaking associated with dandruff. Fused with natural antiseptic herbs help ease psoriasis and dandruff and condition hair and scalp.
ANTI-DANDRUFF SHAMPOO gives you the synergy of healing ingredients that provide long lasting relief from flaking and itching. It can be used on all types of hair to give strong vitality and luster. Your flake-free hair will feel and look healthy with radiance.
ㆍSULFATE FREE
ㆍPrevents itching and flaking
ㆍCools and refreshes the scalp
ㆍProvides superior moisture
ㆍNourishes dry scalp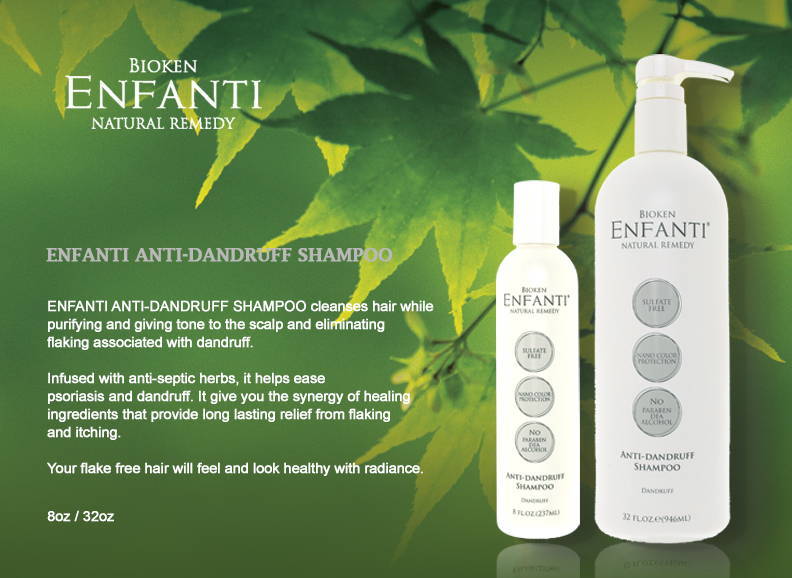 Wet hair, massage a small amount on hair. Leave for 1 or 2 minutes and rinse thoroughly. Repeat if necessary. Great for all hair types, including color treated hair.
*Anti- Dandruff Shampoo: Dandruff shampoo is largely divided into two categories, one made by reinforcing pharmaceuticals and chemicals, and natural products. Chemical products are made of tar or zinc, but they are very strong and addictive, and if you continue to use adrenocorticotropic drugs, you may get enormous scalp damage and skin diseases. Therefore, a scalp with very severe dandruff should use these products once or twice and not continuously.
(Salicylic acid belongs to a class of drugs known as salicylates. When applied to the skin, salicylic acid may work by helping the skin to shed dead cells from the top layer and by decreasing dead skin(dandruff), redness and swelling (inflammation). This decreases the number of pimples that form and speeds healing.)
(Most of Anti-dandruff shampoo uses Pyrithione Zink is too harsh chemical for skin.)
water, sodium olefin c14-16 sulfonate, cocamidopropyl betaine ,disodium laureth sulfosuccinate, salicylic acid, glycol distearate, niacinamide, green tea extract, nettle extract, calendula extract, tea tree oil, propolis extract, aloe vera, panthenol, fragrance, dimethicone, menthol, citric acid, polyquaternium-10, peg-120 methyl glucose dioleate, tetrasodium edta, methylchloroisothiazolinone, methylisothiazolinone
SHOP ANTI-DANDRUFF SHAMPOO