M72 Ceramide Hair Mask is typically developed triple fusion amplitude. Ceramide, 72 kinds of trace Minerals and USDA approved Super natural 13 kinds Herb extracts.
Ceramides are a type of lipid which is a natural component of the hair cuticle. Just as a refresher on the anatomy of the hair, the cuticle is the thin outermost layer of the hair that serves to protect the hair shaft and provide strength.
13 kinds of USDA Certified Organic Herb is a moisturizing hair for dry hair, color-treated hair packed with super rich, essential nutrients to nourish and moisturize hair. The Certified Organic Mask recipe works to create a smooth, shiny and frizz-free. 13 Herbs are Aloe vera, Calendula, Green Tea, Chamomile, Horsetail, Acai, Lavender, Panax Ginseng, Rosemarry, Sage, Comfrey, Nettle, Quinoa,
72 kinds of Minerals are major elements in the normal hair follicle cycle, playing a role in cellular turnover, a frequent occurrence in the matrix cells in the follicle bulb that are rapidly dividing. Management of alopecia is an essential aspect of clinical dermatology given the prevalence of hair loss and its significant impact on patients' quality of life. The role of nutrition (Organic Herb Extracts) and diet in treating hair loss represents a dynamic and growing area of inquiry.
72 ionic trace minerals in varying trace amounts in seawater, including those listed above as well as the following: calcium, silicon, selenium, phosphorus, iodine, chromium, manganese, iron, copper, molybdenum, zinc, vanadium.
Perfect recipe for dry and damaged hair!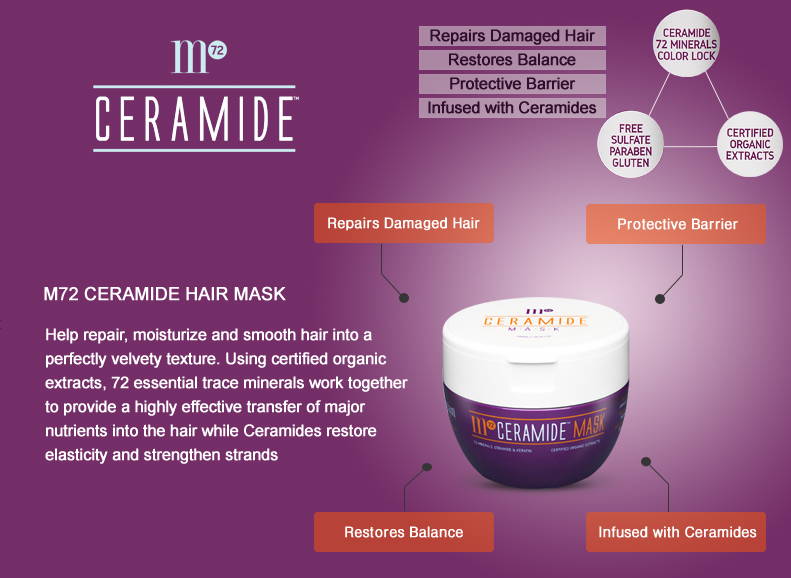 Applying a quarter sized amount of Super herb Treatment to wet, freshly shampooed hair. Leave on for 5 minutes. Rinse.
Aqua / Water / Ceramide 3, Caprylic/Caplic Triglyceride, Myristoyl/ Palmitoyl/ Oxostearamide/ Arachamide MEA, Sorbitan Stearate, Phytosterols, Capry Glycol, Stearic Acid, Xantan Gum, Cyclopentasiloxane, PEG/PPG-18/18 Dimethicone, Cethyl Alcohol, Cetearyl Alcohol, Behentrimonium chroride, Bentrimonium Methosulfate, Stearyl Alcohol, Dimethicone, Safflower Oil, Shea Butter, Amodimethicone, Cetrimonium Chloride, Trideceth-12, Panthenol, Macadamia Oil, Tocopheryl Acetate, Citric Acid, Tetrasodium EDTA, Sea Water Extracts, *Aloe vera Extract, *Calendula Extract , *Green Tea Extract, *Chamomile Extract , *Horsetail Extract , *Acai Extract, *Lavender Extract, *Panax Ginseng Extract, *Rosemary Extract , *Sage Extract , *Comfrey Extract , *Nettle Extract , *Quinoa Extract. (*USDA Certified Organic)
AMAZING SOFT, SHINY, SILKY HAIR IN 5 MINUTES - Luxury Salon Perfect Hair. Professional Silky , Smooth & Shine. Split Ends Repair
INTENSIVE DEEP TREATMENT FOR DAMAGED HAIR - Nourishing Renewing Restores & Hydrates Color Treated & Dry Hair to Health. Intense Remedy Recovery Nutrition for Extremely Brittle Hair
LONG LASTING VITAMIN COMPLEX LOCKS IN MOISTURE - Ultra Moisturizing Nourishment for a HAIR BODY, Repairing & Strengthens Bleached & Colored Hair. Scalp & Roots Revive.
TIMELESS FRIZZ CONTROL & STRENGTHENING MOISTURIZER - Antifrizz Solution Immediately Frizzy Hair. Curl Booster & Strengthener for Smoother hair Styling. Anti Breakage Thermal Protection Shield Stops Heat Damage
VOLUME UP FORMULA NEVER WEIGH DOWN THIN FINE HAIR - Non Oily Volumizing Product for Wavy & Normal Hair Texture. NO Sulfate, Paraben & Cruelty Free. No Alcohol & Without Harsh Chemicals
SHOP M72 Ceramide hair mask