M72 Ceramide Conditioner with its gentle, balanced and ideal healing technology, it moisturizes and rejuvenates hair with , Ceramide, 72 kinds of trace Minerals and USDA approved Super natural 13 kinds Herb extracts.
Ceramides are a type of lipid which is a natural component of the hair cuticle. Just as a refresher on the anatomy of the hair, the cuticle is the thin outermost layer of the hair that serves to protect the hair shaft and provide strength.
13 kinds of USDA Certified Organic Herb is a moisturizing hair for dry hair, color-treated hair packed with super rich, essential nutrients to nourish and moisturize hair. The Certified Organic Mask recipe works to create a smooth, shiny and frizz-free. 13 Herbs are Aloe vera, Calendula, Green Tea, Chamomile, Horsetail, Acai, Lavender, Panax Ginseng, Rosemarry, Sage, Comfrey, Nettle, Quinoa,
72 kinds of Minerals are major elements in the normal hair follicle cycle, playing a role in cellular turnover, a frequent occurrence in the matrix cells in the follicle bulb that are rapidly dividing. Management of alopecia is an essential aspect of clinical dermatology given the prevalence of hair loss and its significant impact on patients' quality of life. The role of nutrition (Organic Herb Extracts) and diet in treating hair loss represents a dynamic and growing area of inquiry.
72 ionic trace minerals in varying trace amounts in seawater, including those listed above as well as the following: calcium, silicon, selenium, phosphorus, iodine, chromium, manganese, iron, copper, molybdenum, zinc, vanadium.
M72 Ceramide Conditioner specially formulated with Aloe Vera, Green Tea, Chamomile, Lavender, Panax Ginseng root, Comfery, Rosmary, Sage leaf , Nettle, Quinoa seed extracts, invigorates weak scalp while providing antioxidant and antibacterial effects while tocopheryl acetate, also known as vitamin E acetate, is a naturally occurring antioxidant.
Hydrolyzed wheat proteins work to reinforce the hair shaft and replenish hair to its youthful form. The low molecular weight allows it to penetrate the hair and strengthen its structure. Bee propolis extract is high in vitamins B, E, C, H, P, as well as pro-vitamins and flavanoids, which are known to have antibacterial and antibiotic qualities. Bee propolis fortifies strands and stimulates hair growth while reinforcing hair's natural defenses to help cure and prevent split ends.
Available in 10oz and 32 oz sizes
M72 Ceramide Conditioner is fortified with a full supplement of vitamins and herbal extracts to strengthen hair and scalp. This lightweight conditioner instantly detangles, restores and smooth hair while providing thermal and UV protection and true color retention. Its low pH (3.5-4.5) seal the cuticle layer and lock in shine.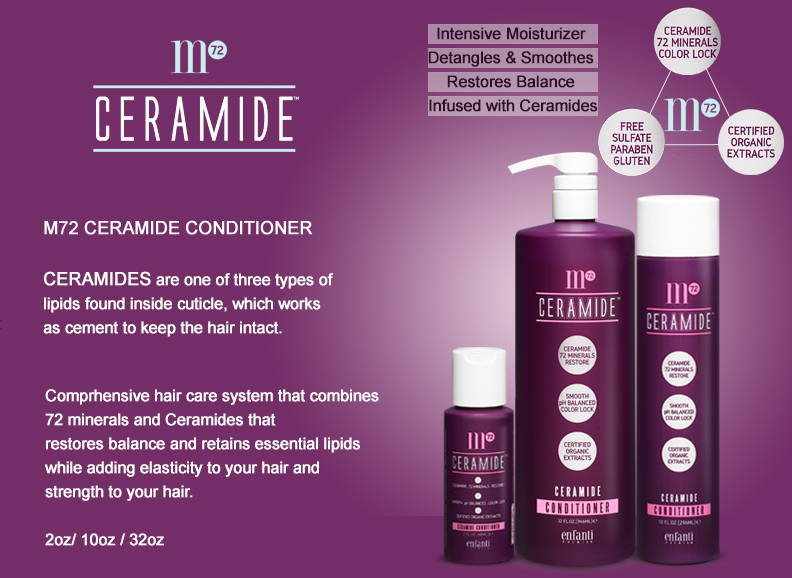 After washing out shampoo, apply the conditioner over your hair concentrating on the ends. Leave in for a few minutes and then rinse thoroughly.
Aloe Vera - has polyphenols, along with several other compounds, help inhibit the growth of certain bacteria that can cause infections in humans. Aloe vera is known for its antibacterial, antiviral, and antiseptic properties. This is part of why it may help heal wounds and treat skin problems.
Chamomile extract - in the form of an aqueous extract has been frequently used as a mild sedative to calm nerves and reduce anxiety, to treat hysteria, nightmares, insomnia and other sleep problems.
Calendula – increases hair shaft elasticity and flexibility to prevent breakage, penetrates to the core of hair shaft to restore keratin levels (fibrous structural proteins), normalizes activity of Sebaceous glands (prevents oily hair), and has anti-bacterial and soothing properties
Horsetail can also improve circulation, leading to the improvement of hair follicles and to help stimulate hair growth. With these improvements comes the ability for hair follicles to produce new hair. Because of its silica content, horsetail is also useful when trying to stimulate hair growth.
Quinoa rich in Vitamin E fights free radicals, provides collagen and repairs deeper pores in the skin damaged from sun and pollution. The quinoa-based face packs penetrate deep into the skin with the help of peptides and amino acids and aid in the stimulation of healthy, new collagen.
Green Tea - highly regarded for its potent antioxidants and anti-aging properties, research shows that it is known to help stimulate hair growth, soothes scalp, and reduces inflammation. Additionally, green tea is a great source of Panthenol, which is a natural hydrating form of Pro-Vitamin B. Provides extreme conditioning and softens hair.
Hydrolyzed wheat protein - work to reinforce the hair shaft and replenish hair to its youthful form. The low molecular weight allows it to penetrate the hair and strengthen its structure. Offers a combination of moisture-balancing and film-forming properties that work synergistically to give hair body control, and feel smoother and softer.
Propolis - greek meaning is "defender of the city", it is a sticky substance secreted from bark and buds of trees. It protects the tree from environmental hazards such as mold, fungi, and bacteria. Bees protect their hives by collecting the tree propolis. This propolis that the bees collect has a high concentration in flavanoids providing to be a powerful antibiotic. Flavonoids are known to stimulate hair growth and also reinforce natural defenses of hair to prevent and cure split ends. High content of Vitamins B, E, C, H, P, Pro-Vitamin.
Acai berries - have a unique rich in Omega 3, 6, and 9 as well as vitamins B, C, and E, Acai is effective for reducing hair loss. The Omega fatty acids, along with Vitamin C, nourish the scalp by keeping it hydrated and creating a protective barrier against external aggressors, which often cause hair fall.
SHOP M72 CERAMIDE CONDITIONER